We also host the Hangzhou Mountain Marathon which is an informal training run organised by Nicolas for runners interested in participating in and training for MS2S if you are in the Shanghai / Hangzhou area.
We will be hosting the next Hangzhou Mountain Marathon (HZMM) on 28th October 2023.
Hangzhou Mountain Marathon at Hangzhou Shangri La
We invite you and your family to come run or walk or spend the weekend in beautiful Hangzhou while weather is still mild and crowds are gone! As always, HZMM is a challenging hill race or a trek with your companion and family on a part of the course, among the Long Jin Tea Hills and Hangzhou Buddhist Temples. This unique event consists of a beautiful and challenging 42KM course as well as shorter courses of 17, 25, and 34K for registration and question email HZMM The HZMM are typically held in Spring and Autumn. Dates will be announced on this page.
25th March 2023 Hangzhou Mountain Marathon Results
26th November 2022 Hangzhou Mountain Marathon Results

27th March 2021 Hangzhou Mountain Marathon Results
7th November 2020 Hangzhou Mountain Marathon Results
11th April 2020 Hangzhou Mountain Marathon Results
19th October 2019 20th Anniversary Hangzhou Mountain Marathon Results
13th April 2019 Results
27th October 2018 Results
HZMM Fall 2017 Ranks
 
 
 
 
 
Date:
21-Oct-17
Departure Time
09.09
 
 
 
 
 
 
Mr./Ms
Family Name
Given Name
Rank
Arrival Time
Running Time
Distance Run (<=42km)
Men
Women
Mr.
MORSE
David
1
 
17.30
8h21min
42
Mr.
AMHOF
Eric
2
 
17.46
8h37min
42
Mr.
FEHR
Markus
3
 
17.26
11h26min
42
Mr.
GUVEN
Ozan
 
 
13.40
4h31min
29
Mr.
RIGGS
David
 
 
17.55
8h46min
28
Mr.
EHU
Jack
 
 
13.47
6h17min
11
 
 
 
 
 
 
 
 
MS.
CHEUNG
Kay
 
1
17.53
8h44min
42
MS.
MEYER
Anne-Sophie
 
1
17.53
8h44min
42
MS.
EISENRING
Celina
 
2
18.55
9h46min
42
MS.
REIFLER
Meret
 
2
18.55
9h46min
42
MS.
RODUIT
Emmanuelle
 
 
16.08
6h59min
25
MS.
SOGOR
Katalin
 
 
17.20
8h11min
21
MS.
SHEN
Tina
 
 
13.50
4h41min
19
MS.
WANG
Zhen
 
 
14.00
4h51min
17
MS.
NGUYEN
Ariel
 
 
No Record
 
33
Results from October 22, 2016 HZMM
HZMM Participant List
 
 
 
 
 
 
 
Departure Time
 
 
 
 
09:20
 
 
Mr./Ms
Family Name
Given Name
Rank
Arrival Time
Running Time
Running Distance [km]
Men
Women
Mr
Henke
Roger
1
 
16:58
7h 38m
42
Mr
Fehr
Markus
2
 
17:29
11h 29m
42
Mr
Souche
Guilhelm
 
 
14:36
5h 16m
25
Mr
Lacroix
Fabien
 
 
15:22
6h 2m
25
Mr
Thierry
Gilles
 
 
15:22
6h 2m
25
Mr
Alix
Thomas
 
 
16:10
6h 50m
25
Mr
Finucane
Seán
 
 
16:21
7h 1m
25
Mr
Dizon
Manuel
 
 
15:47
6h 27m
21
Mr
Zhu
Jack
 
 
18:30
9h 10m
17
Mr
Dalaman
Dale
 
 
12:35
3h 15m
11
 
 
 
 
 
 
 
 
Ms
Grand-Zufferey
Virginie
 
 
17:23
6h 55m
26
Ms
Roduit
Emmanuelle
 
 
17:25
8h 5m
26
Ms
Suter
Martina
 
 
17:25
8h 5m
26
Ms
Ballaman
Aline Jeanne
 
 
16:42
7h 22m
19
Ms
Eisenring
Celina
 
 
16:42
7h 22m
19
Ms
Henke
Keiko
 
 
16:20
7h
17
Ms
Slaats
Marjan
 
 
16:20
7h
17
Ms
Dalaman
Erin
 
 
12:35
3h 15m
11
Results from the Hangzhou Mountain Marathon 23rd of April 2016


Results from the Hangzhou Mountain Marathon Autumn 2015
Results from the Hangzhou Mountain Marathon Saturday 10 April 2015
HZMM Participant List
 
 
 
 
 
 
 
Departure Time
 
10-Apr-15
 
 
09:05
 
 
Mr./Ms
First Name
Last Name
Rank
Arrival Time
Running Time
Distance Run (<=42km)
Men
Women
Mr.
Richard
Sirrs
1
 
14:47
05:42
42
Mr.
Cedric
Banelli
2
 
16:42
07:37
42
Mr.
Kristian
Bukor
3
 
17:20
08:15
42
Mr.
Roger
Henke
4
 
17:40
08:35
42
Mr.
Luis
Vieyra
5
 
18:58
09:53
42
Mr.
Lei
Mao
6
 
18:59
09:54
42
Mr.
Wenjie
Zhu
7
 
19:05
10:00
42
Mr.
Salomon
Cohen
8
 
19:06
10:01
42
Mr.
Simon
Hopper
9
 
19:15
10:10
42
Mr.
Markus
Baumgartner
 
 
16:57
07:52
40
Mr.
Nicolas
Musy
 
 
17:13
08:02
35
Mr.
Peter
Neumann
 
 
17:13
08:02
35
Mr.
Thomas
Gheradin
 
 
16:15
07:10
29
Mr.
Andrew
Wong
 
 
18:15
09:10
28
Mr.
Johny
Gwin
 
 
18:15
09:10
28
Mr.
Jacob
Huff
 
 
14:52
05:52
24
Mr.
Loek
Zomerdijk
 
 
13:00
03:55
18
Mr.
Xiaobiao
Zhu
 
 
14:35
05:30
17
Mr.
Kevin
Tam
 
 
17:00
07:55
17
Mr.
Petrick
Sanglard
 
 
17:00
07:55
17
Mr.
Simon
Huerlimann
 
 
17:00
07:55
17
Mr.
Jeffrey
Turnbull
 
 
13:11
04:06
12
Mr.
Michel
Brekelmans
 
 
12:15
03:10
11
Mr.
Andrea
Fassina
 
 
 
 
DNF
Mr.
Christopher
Chase
 
 
 
 
DNF
Mr.
Martin
Ng
 
 
 
 
DNF
Mr.
Nick
Valenzuela
 
 
 
 
DNF
Mr.
Shannon
Watt
 
 
 
 
DNF
Mr.
William
Stone
 
 
 
 
DNF
Results from the Hangzhou Mountain Marathon Saturday 12 April 2014
HZMM Participant List
 
 
 
 
 
 
 
Departure Time
 
12-Apr-14
 
 
09:08
 
 
Mr./Ms
Last Name
First Name
Rank
Arrival Time
Time Taken
Distance Run (<=42km)
Men
Women
Mr.
Andersen
Hans Christian
1
 
15:37
06:29
full
Mr.
Jeanes
Matt
2
 
15:57
06:49
full
Mr.
Fang
Zhengjie
3
 
16:20
07:12
full
Mr.
Suarez Garcia
Pelayo
3
 
16:20
07:12
full
Mr.
Benson
Chris
5
 
16:30
07:22
full
Mr.
Broman
Thomas
6
 
16:32
07:24
full
Mr.
Horn
Jochen
7
 
16:36
07:28
full
Mr.
Duteau
Maurice Bradley
7
 
16:36
07:28
full
Mr.
Colombo
Cedric
9
 
16:41
07:33
full
Mr.
Jervis
Scott
10
 
16:48
07:40
full
Mr.
Cottier
Philipp
11
 
18:08
09:00
full
Mr.
Schmutz
Daniel
11
 
18:08
09:00
full
Mr.
Toledano
Diego
 
 
14:55
05:47
42km
Mr.
Grobenski
Zvoni
 
 
18:14
09:06
42km
Mr.
Musy
Nicolas
 
 
18:14
09:06
42km
Mr.
Kantelhardt
Wolf
 
 
15:46
 
37km
Mr.
Baumgartner
Markus
 
 
15:50
 
37km
Mr.
Haughie
George
 
 
 
 
35km
Mr.
Eloi
Guenet
 
 
14:08
 
30km
Mr.
Nguy
Huuphoc
 
 
14:08
 
30km
Mr.
Ji
Liangkai
 
 
17:00
 
30km
Mr.
Asseline
Frederic
 
 
 
 
30km
Mr.
Kennedy
Gregor
 
 
16:49
 
20.45km
Mr.
Schenk
Jonas
 
 
13:00
 
20km
Mr.
Allen
Dominc
 
 
13:30
 
20km
Mr.
Allen
Felix
 
 
13:30
 
20km
Mr.
Allen
Marcus
 
 
13:30
 
20km
Mr.
Illum
Klaus
 
 
13:21
 
17km
Mr.
Allen
Patrick
 
 
14:14
 
17km
Mr.
Zhu
Xiaodong
 
 
10:00
 
10km
Mr.
Yang
Wen-Chieh
 
 
16:00
 
10km
Mr.
Tonidandel
Marco
 
 
 
 
DNF
Mr.
Quintas
David
 
 
 
 
DNF
Mr.
Robinson
Nick
 
 
 
 
DNF
Mr.
Rollet
Bruno
 
 
 
 
DNF
Mr.
Seidner
Eric
 
 
 
 
DNF
Mr.
Tam
George
 
 
 
 
DNF
Mr.
Thierry
Gilles
 
 
 
 
DNF
Mr.
Vallet
Jeremie
 
 
 
 
DNF
Mr.
Wennermark
Johan
 
 
 
 
DNF
Mr.
Yuan
Nicole
 
 
 
 
DNF
 
 
 
 
 
 
 
 
Ms.
Gheleyns
Anne
 
1
18:06
 
full
Ms.
McHugh
Siobhan
 
 
14:08
 
30km
Ms.
Yeo
Maureen
 
 
 
 
30km
Ms.
Gui
Jenny
 
 
16:50
 
20.45km
Ms.
Annis
Simone
 
 
14:14
 
17km
Ms.
Zhan
Lanxin
 
 
12:30
 
10km
Ms.
Chen
Chin-Yi
 
 
16:00
 
10km
Ms.
Chiu
Beck
 
 
16:00
 
10km
Ms.
Chan
Elaine
 
 
 
 
DNF
Ms.
Day
Margaux
 
 
 
 
DNF
Ms.
Fei
June
 
 
 
 
DNF
Ms.
Gentil
Elodie
 
 
 
 
DNF
Ms.
Han
Anne
 
 
 
 
DNF
Ms.
Pedoya
Claire
 
 
 
 
DNF
Ms.
Robinson
Sierra
 
 
 
 
DNF
Ms.
Wang
Yue
 
 
 
 
DNF
Ms.
Wang
Danfeng
 
 
 
 
DNF
Ms.
Wong
Vivian
 
 
 
 
DNF
Ms.
Yao
Helen
 
 
 
 
DNF
Ms.
Yu
Eva
 
 
 
 
DNF
Ms.
Yu
Jenny
 
 
 
 
DNF
Results from the Hangzhou Mountain Marathon Saturday 26 October 2013
HZMM Participant List
 
 
 
 
 
 
 
Departure Time
 
26. Okt 13
 
 
09:00
 
 
Mr./Ms
Last Name
First Name
Rank
Arrival Time
Time Taken
Distance Run (<=42km)
Men
Women
Mr.
Barbier
Eric
1
 
14:55
05:55
full
Mr.
Marmier
Pascal
2
 
15:02
06:02
full
Mr.
Van den Broecke
Bart
3
 
15:30
06:30
full
Mr.
GUENET
Eloi
4
 
15:54
06:54
full
Mr.
NGUY
Huuphoc
4
 
15:54
06:54
full
Mr.
Andersen
Hans Christian
6
 
15:56
06:56
full
Mr.
Wielenga
Doekle
7
 
16:16
07:16
full
Mr.
Tonidandel
Marco
7
 
16:16
07:16
full
Mr.
PETIT
Romain
9
 
16:51
07:51
full
Mr.
Broman
Thomas
10
 
17:09
08:09
full
Mr.
Sze
James
11
 
17:13
08:13
full
Mr.
LECLERCQ
Hugo
12
 
17:15
08:15
full
Mr.
BLERVAQUE
Thomas
12
 
17:15
08:15
full
Mr.
Hopper
Simon John
14
 
18:01
09:01
full
Mr.
Illum
Klaus
15
 
18:26
09:26
full
Mr.
Cottier
Philipp
16
 
18:38
09:38
full
Mr.
Neumann
Peter
17
 
18:39
09:39
full
Mr.
Ji
LIANGKAI
18
 
18:42
09:42
full
Mr.
Mcleod
James
19
 
19:28
10:28
full
Mr.
McAlister
Marc
 
 
15:22
06:22
42km
Mr.
Lacey
Andrew
 
 
16:00
07:00
37km
Mr.
Duteau
Maurice Bradley
 
 
15:00
06:00
36km
Mr.
RIBOLZI
Nicolas
 
 
15:15
06:15
30km
Mr.
Gomez Cobo
Luis
 
 
13:56
04:56
27km
Mr.
Ceralli
Pierre-Alain
 
 
13:56
04:56
27km
Mr.
BIZOT
PHLIPPE
 
 
13:30
04:30
25km
Mr.
Pouch
Bruno
 
 
15:30
06:30
25km
Mr.
Jolicoeur
Peter
 
 
13:55
04:55
18km
Mr.
Fromm
Mark
 
 
12:53
03:53
17.3km
Mr.
Huang
Zhongxiao
 
 
15:50
06:50
17km
Mr.
Kennedy
Gregor
 
 
16:00
07:00
15.97km
Mr.
SANG
Wenjun
 
 
 
 
DNF
Mr.
Kantelhardt
Wolf
 
 
 
 
DNF
Mr.
Lin
Yaoxiang
 
 
 
 
DNF
Mr.
Shen
Yuezhong
 
 
 
 
DNF
Mr.
Xia
Qin
 
 
 
 
DNF
Mr.
Ma
Qinliang
 
 
 
 
DNF
Mr.
Zhang
Guoping
 
 
 
 
DNF
Mr.
Veteau
Eric
 
 
 
 
DNF
Mr.
Gao
Feng
 
 
 
 
DNF
Mr.
Naughton
Fergus
 
 
 
 
DNF
Mr.
Wang
Joey
 
 
 
 
DNF
Mr.
Ji
LIANGJIN
 
 
 
 
DNF
Mr.
Wang
Lianhuan
 
 
 
 
DNF
Female
 
 
 
 
 
 
 
Ms.
Aylmer
Louise
 
1
19:28
10:28
full
Ms.
BIZOT
MARIE-CLAIRE
 
 
14:00
05:00
29km
Ms.
Cai
Can
 
 
14:00
05:00
25km
Ms.
Liu
Xia
 
 
16:00
07:00
17km
Ms.
Gui
Jenny
 
 
16:00
07:00
16km
Ms.
Tan
Jessica
 
 
 
 
DNF
Ms.
He
Jie
 
 
 
 
DNF
Ms.
Guo
Jingjing
 
 
 
 
DNF
Ms.
LV
LIANGYUN
 
 
 
 
DNF
Ms.
Veteau
Sylvie
 
 
 
 
DNF
Ms.
Yao
Helen
 
 
 
 
DNF
Results from the Hangzhou Mountain Marathon  13th of April 2013
HZMM Participant List
 
 
 
 
 
 
 
Departure Time
 
 
 
 
09:06
 
 
Mr./Ms
Last Name
First Name
Rank
Arrival Time
Time Taken
Distance Run (<=42km)
Men
Women
Mr.
Qin
Junping
1
 
15:40
06:34
full
Mr.
Marmier
Pascal
2
 
15:43
06:37
full
Mr.
Barbier
Eric
3
 
16:12
07:06
full
Mr.
Horn
Jochen
4
 
17:04
07:58
full
Mr.
Baumgartner
Markus
5
 
17:10
08:04
full
Mr.
Queru
Pascal
5
 
17:10
08:04
full
Mr.
Zhang
Tao
7
 
17:12
08:06
45km
Mr.
Wielenga
Doekle
8
 
17:23
08:17
full
Mr.
Broman
Thomas
9
 
17:56
08:50
full
Mr.
Ijsselmuiden
Samuel
10
 
18:00
08:54
full
Mr.
Vinclair
Christian
10
 
18:00
08:54
full
Mr.
Vinclair
Pierre
10
 
18:00
08:54
full
Mr.
Neumann
Peter
13
 
18:03
08:57
full
Mr.
Sollied
Stian
14
 
18:10
09:04
full
Mr.
Tonidandel
Marco
15
 
18:23
09:17
full
Mr.
Jervis
Scott
16
 
18:25
09:19
full
Mr.
Lodahl
Sebastian
16
 
18:25
09:19
full
Mr.
Lopez
Abel
18
 
18:35
09:29
full
Mr.
Ritchie
Martin
19
 
19:00
09:54
full
Mr.
Morse
David
20
 
19:01
09:55
full
Mr.
Veteau
Eric
21
 
19:10
10:04
full
Mr.
West
Paul
22
 
19:51
10:45
full
Mr.
Windsor
Russell
22
 
19:51
10:45
full
Mr.
Ribolzi
Nicolas
 
 
16:46
07:30
35km
Mr.
PELLOQUIN
Emmanuel
 
 
17:15
08:09
34km
Mr.
LE FAOU
Laurent
 
 
17:15
08:09
34km
Mr.
Lacey
Andrew
 
 
15:15
06:09
33km
Mr.
VanSteenhouse
Harper
 
 
15:22
06:16
33km
Mr.
Luo
Xiping
 
 
15:06
06:00
30km
Mr.
Auckenthaler
Pierre
 
 
16:30
07:24
27-28km
Mr.
Jianyang Jiang
Arthur
 
 
17:52
08:46
27km
Mr.
Frye
Brendon
 
 
14:18
05:12
25km
Mr.
Pate
Neil
 
 
12:51
03:45
23km
Mr.
Mckenna
John
 
 
15:11
6.05
22.5km
Mr.
Wortelboer
Willehard
 
 
15:11
6.05
22.5km
Mr.
Fraser
Murdo
 
 
14:10
5.04
22km
Mr.
Heath
Michael
 
 
12:17
03:11
17km
Mr.
Lindquist
Tobias
 
 
12:17
03:11
17km
Mr.
Sckerl
Mads
 
 
12:45
03:39
17km
Mr.
Krabbe
Henrik
 
 
12:58
03:52
17km
Mr.
Dahl-Jensen
Mikael
 
 
13:02
03:56
17km
Mr.
Blanchford
Arthur
 
 
13:12
04:06
17km
Mr.
THIERRY
Gilles
 
 
13:36
04:30
17km
Mr.
Naville
Xavier
 
 
14:16
05:10
17km
Mr.
Malagnoux
Seb
 
 
15:06
06:00
17km
Mr.
ELLENA
Gerald
 
 
11:16
02:10
12km
Mr.
Galissard
Théo
 
 
13:36
04:30
12km
Mr.
SCHENK
Jonas
 
 
12:00
03:52
10km
Mr.
PEBAYLE
Laurent
 
 
16:30
05:24
Wenjiashan
Mr.
Wei
Zhenbang
 
 
17:37
08:31
38km
Mr.
Pouch
Bruno
 
 
13:36
04:30
17km
Female
 
 
 
 
 
 
 
Ms.
Juhre
Claudia
 
1
17:10
08:04
full
Ms.
Hauge
Camden
 
 
14:36
05:30
25km
Ms.
Newsome
Jennifer
 
 
14:36
05:30
25km
Ms.
Li
Sophie(Wan Po)
 
 
15:06
06:00
25km
Ms.
Krabbe
Tina
 
 
12:58
03:52
17km
Ms.
Dahl-Jensen
Stephanie
 
 
13:02
03:56
17km
Ms.
Dang
Zara
 
 
13:30
04:24
17km
Ms.
VIGNERON
Catherine
 
 
15:06
06:00
17km
Ms.
AUBRY
Agnes
 
 
15:06
06:00
17km
Ms.
Muller
Isabelle
 
 
15:06
06:00
17km
Ms.
Ritter
Johanna
 
 
15:06
06:00
17km
Ms.
Veteau
Sylvie
 
 
15:06
06:00
17km
Ms.
Wong
Fayen
 
 
13:30
04:30
15km
Ms.
Sun
Lina
 
 
11:46
02:40
11km
Ms.
PEBAYLE
Florence
 
 
16:30
05:24
Wenjiashan
Ms.
Nikolaou
Caterine
 
 
 
 
DNF
Ms.
Lee
Jane Lanhee
 
 
 
 
DNF
The 24th November 2012 Hangzhou Mountain Marathon was a success a great run here are some participant comments and photos
"Thank you very much for the race!!! It was phenomenal!!!! I would do it thousand other times! I'm not a hiker nor a long distance runner, nevertheless i enjoyed it very much!"
Marzia Cescon HZMM Autumn Participant
"Thank you for organising such a great run on Saturday. A really great route and I enjoyed it from start to finish, cannot wait for the next one. Thanks for putting the time in to mark the route and take us places we would not normally go, just excellent." 
Andrew Lacey HZMM Autumn Participant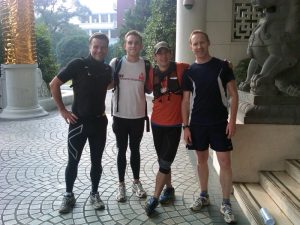 Thomas on left, Bruce, Kristian and Andrew at the 24 November 2012 HZMM
HZMM Participant List
 
 
 
 
 
24/11/2012
 
Departure Time
 
 
 
 
8:34
 
 
Mr./Ms
Last Name
First Name
Rank
Arrival Time
Running Time
Distance Run (<=42km)
Men
Women
Mr.
Sahibi
Noureddine
1
 
13:30
4:56
42
Mr.
SCHENK
Jonas
2
 
15:00
6:26
42
Mr.
Szymczak
Janusz
3
 
15:10
6:36
42
Mr.
Qin
Junping
4
 
15:11
6:37
42
Mr.
Luo
Xiping
4
 
15:11
6:37
42
Mr.
Ma
Yanchun(Rice)
5
 
15:21
6:47
42
Mr.
Wielenga
Doekle
6
 
15:47
7:13
42
Mr.
Holland
Jason
7
 
15:57
7:23
42
Mr.
Wortelboer
Willehard
8
 
17:12
8:38
42
Mr.
Ferrer
Fernando
9
 
17:34
9:00
42
Mr.
West
Paul
10
 
18:47
10:13
42
Mr.
Windsor
Russell
10
 
18:47
10:13
42
Mr.
Peng
Liang
11
 
18:50
10:16
46
Mr.
Feng
Jian
12
 
14:52
6:18
41
Mr.
Lewis
Sebastian
13
 
17:12
8:38
41
Mr.
Soltesz
Kristian
14
 
13:20
4:46
38
Mr.
Botsford
Bruce
15
 
13:45
5:11
38
Mr.
Hopper
Simon
16
 
15:31
6:57
38
Mr.
Pu
Jia
17
 
16:00
7:26
38
Mr.
Lacey
Andrew
18
 
13:45
5:11
36
Mr.
Broman
Thomas
18
 
13:45
5:11
36
Mr.
RIBOLZI
Nicolas
19
 
15:30
6:56
35
Mr.
Ceralli
Pierre-Alain
20
 
14:04
5:30
30
Mr.
Watkins
Alyn
21
 
 
 
25
Mr.
Smith
Giles
22
 
13:45
5:11
20
Mr.
Tonidandel
Marco
23
 
13:00
4:24
17
Mr.
Sala
Cesc
 
 
 
 
17
Mr.
FONTS MESTRES
PERE
 
 
 
 
17
Mr.
Barbier
Eric
 
 
14:58
6:24
 
Mr.
GUILLAMOT
MIKAEL
 
 
17:30
8:56
 
Mr.
Jepsen
Bo Henrik Hart
 
 
 
 
 
Mr.
PEBAYLE
Laurent
 
 
 
 
 
Mr.
Woodward
Mark
 
 
 
 
 
Mr.
Frank
Morten Kompany
 
 
 
 
 
Mr.
Vassard
Morten Tevez
 
 
 
 
 
Ms.
Cescon
Marzia
 
1
16:30
7:56
42
Ms.
Bruemmer
Erin
 
2
13:45
5:11
20
For more details on past training runs please click Hangzhou Mountain Marathon preparation run
Mongolia Sunrise
to Sunset Charity Run