On the different pages/tabs you will find race photos and videos from past events. Enjoy the captured magical moments.
On the different pages/tabs you will find race results and race reports for past events. What is important to remember is that what ever you do and how fast you do it make sure it is fun and safe.
2023
2022
2019
2018
2017
2016
2015
Previous Races
2023
2022
2019
2018
2017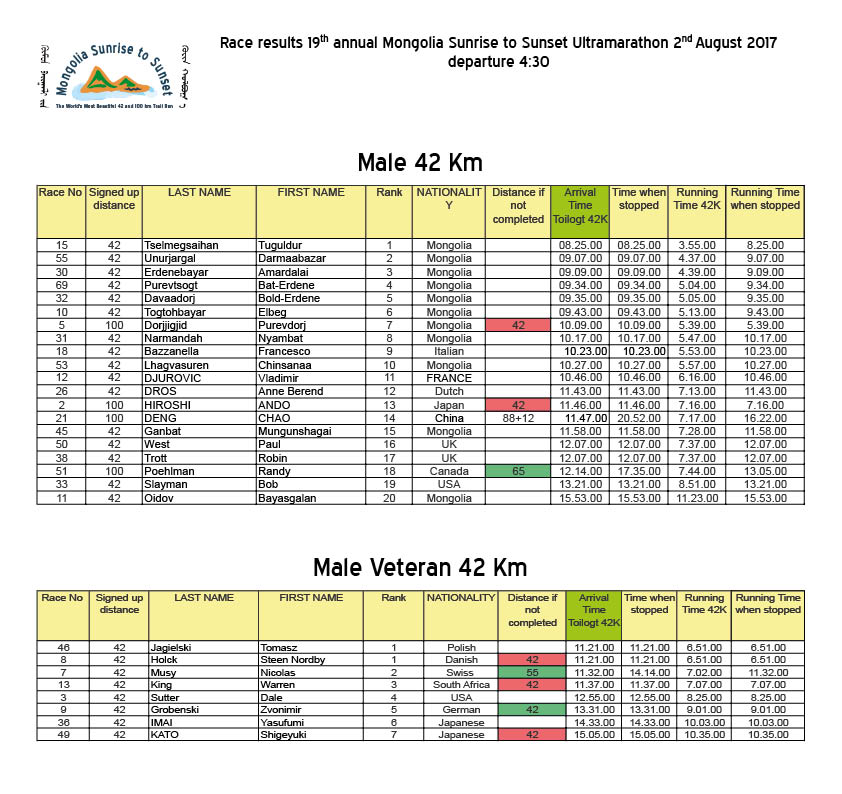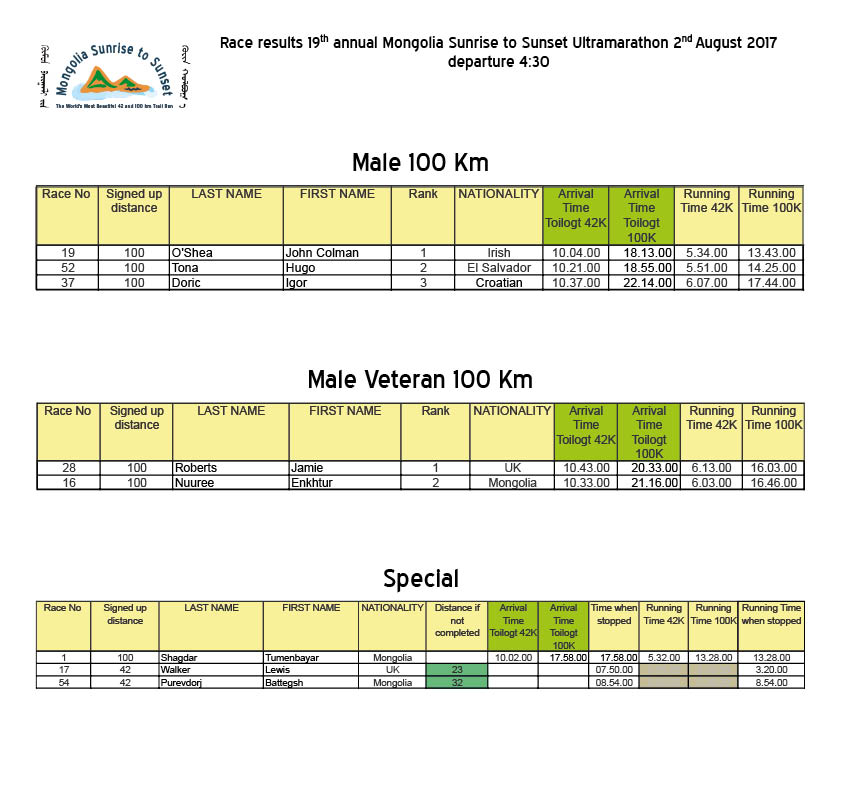 Race Report Mongolia Sunrise to Sunset 2017

2016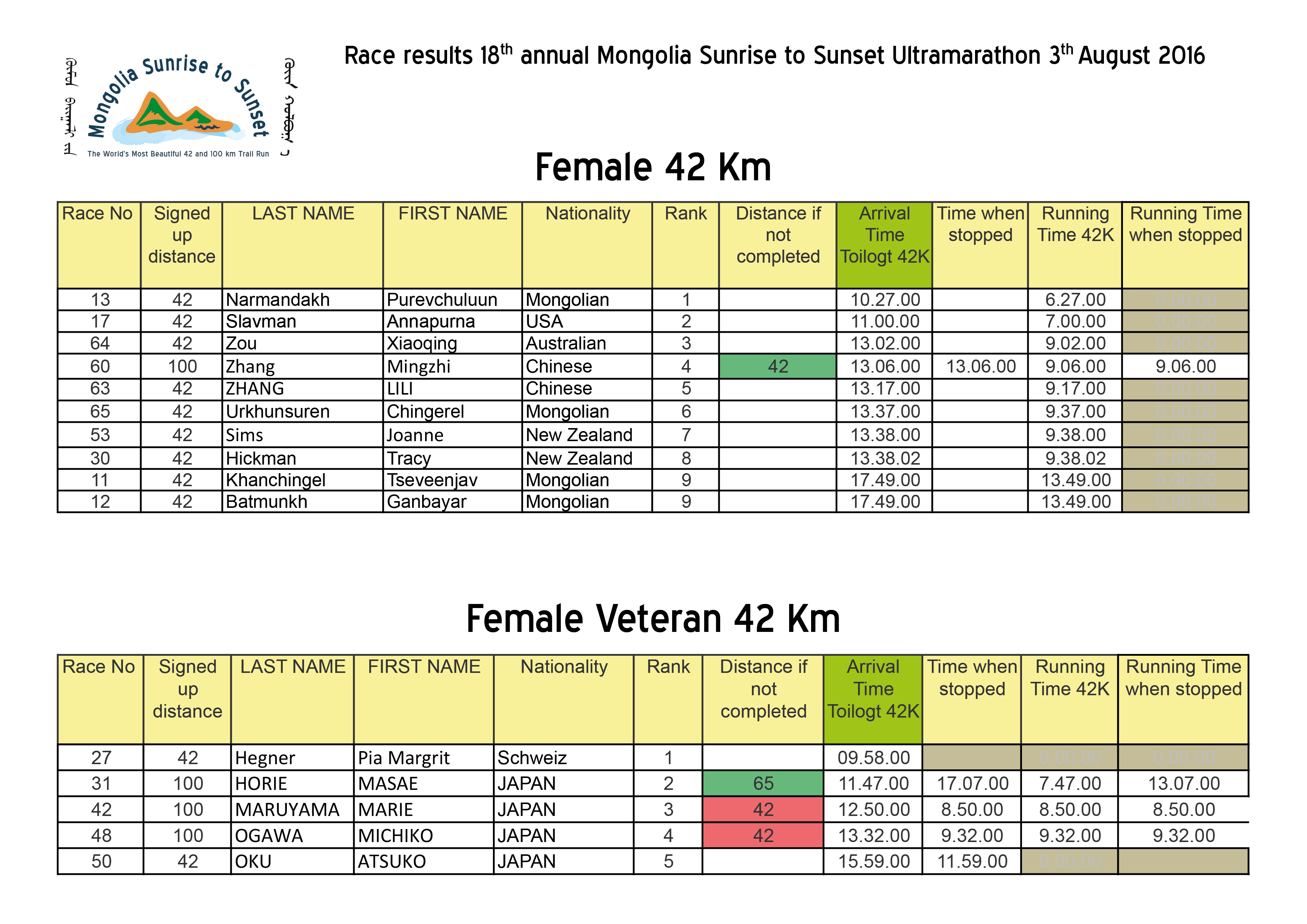 Race Report Mongolia Sunrise to Sunset 2016
2015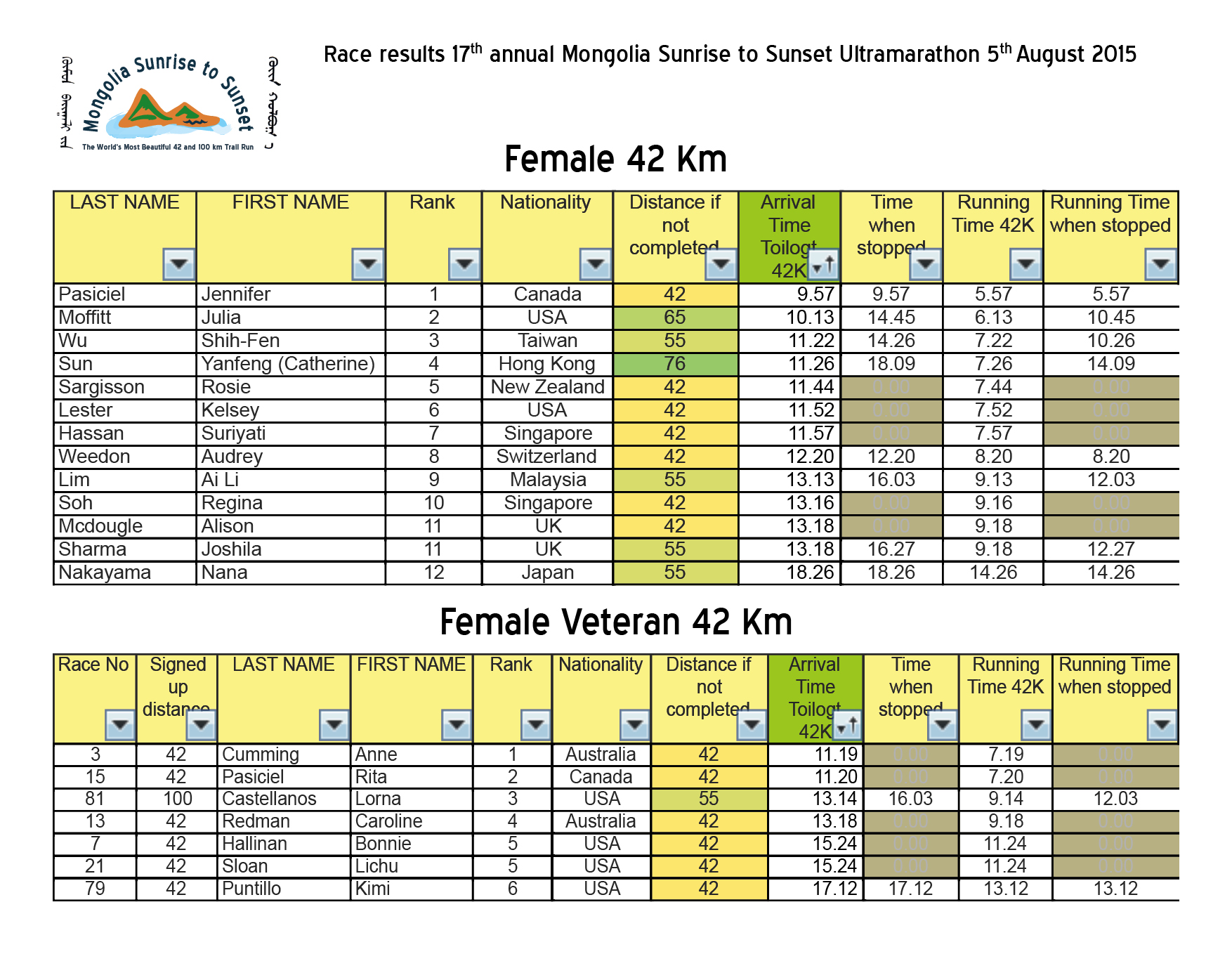 Race Report: 17th annual Mongolia Sunrise to Sunset trail ultra marathon,
5 August 2015
Did you hear about a fairy-tale part of the world in the north of Mongolia with untouched nature and vast open space, with Hovsgol Lake- the Dark Blue Pearl of Mongolia, surrounded by lush green hills, mountains reaching for the sky, and dense alpine forest of taiga? 96 rivers and streams empty in this majestic clear-watered lake being the second largest fresh water lake in the world and containing 1% of the world' fresh water reserve. The whole area is the part of Hovsgol National Park. Never heard of it?
If you are a trail runner, adventurer and/or nature lover, you should have!
For the 17th year in a row, runners from all around the world gathered for a 100 and 42km race on a trail that many believe is "the world's most beautiful 100km." We typically run on horse trails through the National Park, along the lake or up in the mountains/forest with a total elevation gain/loss of 3365 meters.
Runners arrived from all over the world and converged at the meeting point at the Ginggis Khan Airport in Ulaanbaatar on Saturday, August 1th to travel together on a flight to Moron, 600 km northwest from Ulaanbaatar. From there we take 3 hours by jeep ride to the camp, on and off the road. This ride is our first encounter with the vast spaces of Mongolia, a country more than four times the size of Germany and population of only 2.8 million.
This makes Mongolia the most sparsely populated country in the world. You could run for days and days through rolling hills and lush green grassland, and you may not meet a person. May be a few sheep, or yaks, or a lonely horseman?
This year, we had a glitch when the airplane from Beijing arrived much too late and eight participants had to take a long bus ride to the camp on Sunday. All runners had a late arrival at camp, and were happy to finally slip into their local gers with raging fireplaces in the middle. Even in summer, nights here at altitude of 1600 meters above sea level are fresh, if not cold, but during the day, with sun, the temperatures are very pleasant.
The days before the race were not only used for rest and acclimatisation. All participants enjoyed everything this beautiful place has to offer: horseback riding with local horsemen's escort, a canoe trip on the small lake near the camp or on the big lake, a walk in the forest, and even swimming in the lake. This last activity was nearly impossible in the previous years, but this summer seems to be exceptionally warm and dry. Even swampy parts on the course have been pretty dry, so you could arrive with dry shoes to the finishing line. And weather was simply perfect all week; a lot of sunshine, beautiful clouds forming above the lake and then only a quick shower either in the afternoon or during the night. But on the race day, weather was perfect; not too hot and no rain the whole day.
Many runners could simply not wait for the start, and so in the days prior to race day, they explored the first 17 km of course, all the way up Chichee pass at 2300 meters. Other runners explored other parts of the 42K course. And all attended the mandatory medical check which our doctor Ben (when he was not playing with his drone!?), performed with lot of humor and many good pieces of advice on what to do and what not to do for and during the race. The problem with Doc Ben is that you have to decide when to take him seriously and when to simply laugh at his humor.
Organiser´s had to double-check the trail and refresh the famous green markings on the stones and trees, to make sure that nobody gets lost, which was done in the week before the race, with help of Julia and Imai san.
A few people were down sick with a 24 hour bug of some kind in the days before the race, but everybody was able to run on the day.
This year, after running the race 13 times before, one special person decided that this will be his last 100K race with MS2S. Mongolia explorer and expert, great master in photography thinks that after hitting 70 he could didn't have much chance of winning the veterans age group, but decided that this time he will do his best again. And of course, he succeeded. One evening he gave us a fantastic show of his most recent travels, and because of these memories and many others, we'll be missing you next year Marc!
On race day, there was an early wake-up call at 03:00 with a Mongolian folk instrument. Moon was just setting behind the trees and sky was still full of stars, indicating good weather. It was just the right temperature too, and the start was sharp at 4:00am. Equipped with torches, the runners entered the dark and hilly forest for the first two kilometers, one of the most dangerous parts of the trail. We all run through the dark until the first aid station, but then as reward for climbing Chichee pass, there was a fascinating sunrise on the other side of the lake.
This time, again, one local athlete from Moron, well known for his previous top results in this race, Tumenbayar, was running from the very beginning, determined to win the men's 100km. And he did it again this year without any real competition in 11:54. However, Fernando, in second place, seasoned athlete from Asturias, complained that he would have much better results if he would not have missed a course mark and had to double back: Come on Fernando, 12:40 is a great time too! Third in the men's 100km was Andrew David within 14:29. We hope to see Tumenbayar running next year again.
We are so happy that the winner for the men's 42K this year was a local Hovsgol runner and only 16 years old: Tuguldur in 5:11, followed by another local runner Lkhagvadavaa, arriving at 5:12.What a finish for 42K?! Third was Hugh Desmond with 5:44 and organisers have to apologise for not having Guinness for him at finishing line. A space for improvement! In this category we had the youngest ever runner who attended and finished, 14 years old Kevin Shuwen, his father Yueshang/Eric escorting him and arriving together within 8:53. Well done Kevin! More to come from Kevin, we imagine.
There were a few ambitious veteran men on the trail for 100K but many stopped at 42 or 55. Marc was hoping and believing that his "1000K" bicycle tour around Mongolia (again!? ) and the training before the race in the mountains of Hovsgol National Park, will work, and indeed he finished first in the veteran men category with a spectacular time of 15:36. If you would know Marc's race number equaling his age, you would understand what a great performance this was. What will be MS2S without Marc running and giving participants on one of his evening slide shows of his traveling in Mongolia in remote places where even very few locals go. His photography is stunning. This year he traveled with his eight camel caravan in the West of Mongolia, shooting again fantastic photos and presenting these, and others, in an impressive slide show with carefully selected music. Next in the veteran men category for 100km was Nicolas, demonstrating a strong performance with 17:48 and sprinting to the finishing line, obviously running again on a magic mixture of soy, electrolyte, sodium chloride and who know what else? Should we start checking for doping?
42K for veteran men was won by Steen with great 6:37, followed by Robert with 7:19. Zvoni , third with 7:34, who was dreaming to follow his son Dinko on 100K, stopped when starting climbing the Jankai. He realised that at 65K he would be too late for a sauna and opted for this. It is important to be there, run and finish, whatever is on that day in your capacity. The rest is academic!
What about our ladies? Aurelia, a French expat living in Seoul, ran a great race and won the women's 100km in strong 15:16. Next? She plans to go for 100 miles. Good luck Aurelia! Second was Laurel who came to beat the 42K time her dad run few years ago. Not only did she do this, but finished the 100K in 16:33. Simply great!
The fastest woman on 42K was Jennifer with 5:57, followed by Julia with 6:13. Actually Julia had very good acclimatisation and was ready for 100K, if it would not have been that her foot gave her a problem and she had to stop at 65K. Still a great performance! And: Julia, please, come again. We need you for the race, for yoga and for the great company. Third in this category was Shih-Fen with 7:22.
The veteran women 42k category was won by Anne with 7:19, who ran together with her husband in such nice peace and harmony that you could be only jealous looking at them. Great to see you so and, please, continue! Second in this class was experienced Rita with 7:20 with very impressive pace going up the hills.
We have listed the fastest three runners of each category below and here again congratulations to all runners and all winners, because we all did a very, very good job. And for a very good cause!
Special recognition for Chen Hua who managed to finish 40K, and His Heng who did finish her 100K, but in 18:54, after the closing of the finishing line. And Jean Paul who was not able to start early in the morning due to illness started to run the second 58K at noon and did the first 42K next morning, totalling time for 100K of 11:32. Great Jean-Paul and you have to come back to Mongolia to do it in that nearly winning time in a single day.
A few other things have to be mentioned.
The traditional horse trek again took place ten days before the race week, and eleven participants had a wonderful and adventurous time in the area east of the Hovsgol Lake, known for many rivers and few visitors. For the few runners among them, this was a good preparation for the race too.
Another group of twelve chose the offer of pre-race training and acclimatisation program from the race camp, filled with daily running or hiking, obligatory "yoga for runners" session every day, guided very professionally by Julia, scouting segments of running trail as well as helping refreshing markings for the trail. And there was still enough time for kayaking/canoeing, horse riding and enjoying easy runs and chats until it became dark around 11:00PM.
We consider repeating both activities next year. Stay tuned!
By the way, "yoga for runners" was on the program during the race week too and always well attended. Thank you Julia; great sessions!
Chalotte and Steen spent a few weeks before in Ulaanbaatar and Hatgal area working on the project of setting a local dairy cooperative with involvement of Danish experts. And making good progress! See more about it on the web page.
For those of you who follow the projects that are funded by the MS2S and by your consistent donations over the years, here is the summary of our progress for major projects:
– ecoLeap Foundation continues to organise the garbage collection in the Hovsgol National Park (840,000 hectares, bigger than Yellowstone park!?),with a new truck purchased recently (the old one we donated was no longer usable ) and a driver who with his daughter operates this for eco-Leap
– eco-Leap is continuing with innovative garbage bag distribution and collection at the main gate of the national park. The bags have ecological messages printed on them, together with instructions that all garbage brought in the park must be collected and carried out by each tourist in the provided bags. And the number of tourists is increasing because the road from Ulaanbaatar and Moron is getting better and better.
– We continue with a program of increasing ecological awareness-building activities in the Hovsgol National Park, and particularly the program with children in the local school in Hatgal.
– We support local shamanic and other kinds of rare local cultures.
Obviously, all proceedings of the race are used for above activities. This would not be enough if we would not have additional special donations throughout the year, and particularly during race week.
The day after the race was recovery day with exchanging stories and experience, followed by a special Mongolian dinner and an award ceremony. And it was difficult to go to the warm ger knowing that this is last evening and in the coming days you will no more have such a great bunch of running buddies around you, and the lake Hovsgol will be without you. And there you are tempted to promise yourself: "I'll be back!"
We took two separate flights back to Ulaanbaatar, settled in the hotel and met for a farewell dinner in "Mongol Nomads", which a few of the more hard core followed with a session at an Irish pub and nobody remembers what was really going there and how it ended.
It is the strong impression of organisers that participants travelled home happy, proud and rich having this trail run experience, new friends, and beautiful pictures, real and "in the head" of pearl lakes, blue Mongolian sky and lush green or stone grey mountains in between.
There are so many things to remember, be it sauna in the camp, great singing and dancing performance of local musicians, Marc's presentation or visiting as a group foot massage in Ulaanbaatar. Knowing all these, coming back is a good option. And ecoLeap will continue hard to protect this park as it is and as long as possible. Each runner/participant has made his/her contribution by being with us in this, on one hand wild and unspoiled, but on the other hand, absolutely beautiful and unique part of the world. Let us continue doing this together.
Finally, a big thank you to the many others who have been essential in making the event a success. What we would do without Shuree who was working "25 hours", and the kitchen who did feed us well, sometimes at impossible times, Shuree, at the bar, having for us always cold drinks, the local musicians and dancers who again have been doing double duty to tend the ger fires and hot water thermoses. And all other personnel of the camp. It was great to be with you and we runners hope that we have not been too difficult to you.
Previous Races